Is this live? Are we live?
After two years of virtual events Cisco Live 2022 was in person again and oh man did I miss it. From flying across the atlantic again after three years to meeting all the amazing people you normally only see on Webex it was an amazing week.
But I wasn't just there for fun and games. You know that you have some work to do if you go to speaker registration and get three speaker shirts 1. Why three shirts when you have two sessions you ask? Well, initially the sessions were scheduled to be small workshops with 12 people as the maximum capacity.
Then you all came in and blew up the waiting list so that we got to schedule additional deliveries including one on the big stage of the DevNet theatre. I am not going to lie - being up there together with Julio was one of the great moments of this year.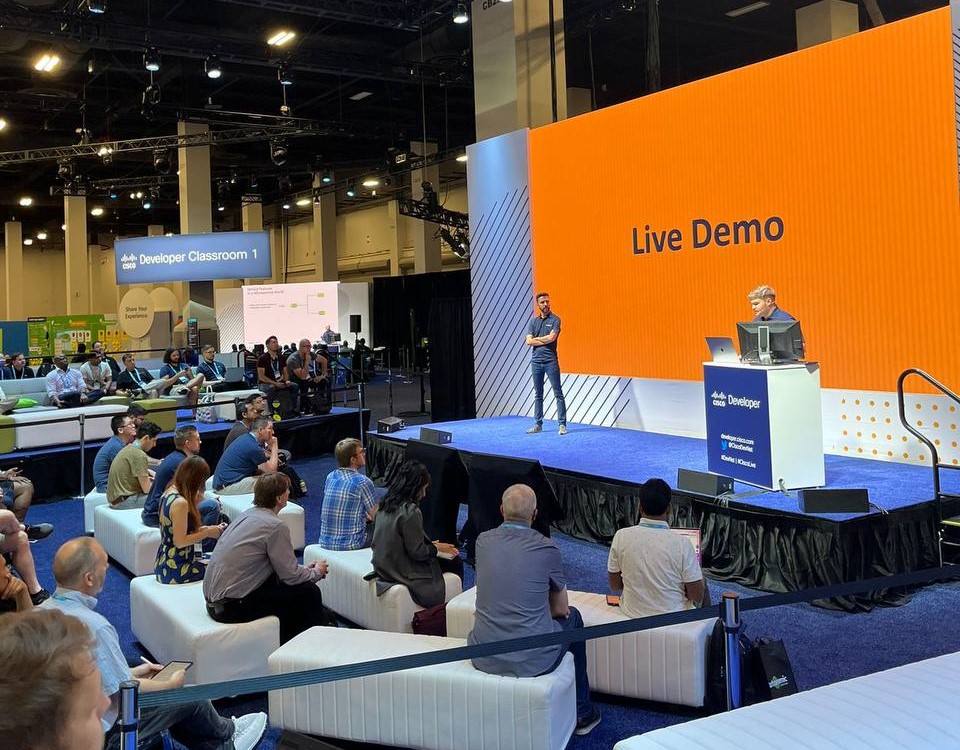 Talk is cheap - Show me the sessions
If you want to have a look at what I presented this year you can find all the sessions linked below. Being code-heavy DevNet sessions each of them has a link to the On-Demand Library from Cisco Live where you can find the recording and slides as well as a companion guide with step-by-step explanations for each of the examples shown during the session. These are available on my GitHub and also linked below.
DEVNET-1439 - Automation gone wrong - Lessons learned from screwing up your network automation
Programming is an exact art. One misplaced character or forgotten line can turn your code from an innocent time saver to wreaking havoc on your system. We are going to take a humorous look at examples of automation going wrong and see how to avoid them.
DEVNET-1970 - 5 ways to impress your colleagues with automation
Julio is a classic networking engineer in his 40s, with 20 years of experience, CCIE, loves his BGP tables. Marcel is a networking engineer in his 20s, with a background in DevOps, he just got his DevNet certs, loves his python code. Together they will go through some real customer business challenges and how they would address them, first individually and then as a team combining their unique technical abilities.
This session will cover specific real-world examples on how to easily automate network infrastructure troubleshooting, deployment, CI/CD, and consolidating structured information in brownfield scenarios.
Thank you!
I have put this blog post off a bit as I was waiting for one certain e-mail. Every year, the top 10% of all speakers (ranked by the audience rating on their session) get a Distinguished Speaker award. Besides bragging rights and an additional ribbon saying "Distinguished Speaker" added to your badge the next time you come to Cisco Live, it's a great recognition of all the work that goes into planning, designing, building, and delivering a session.
Beeing passionate about public speaking since my school days I have always coveted this award in particular and, after presenting at two Cisco Lives previously, I finally got it.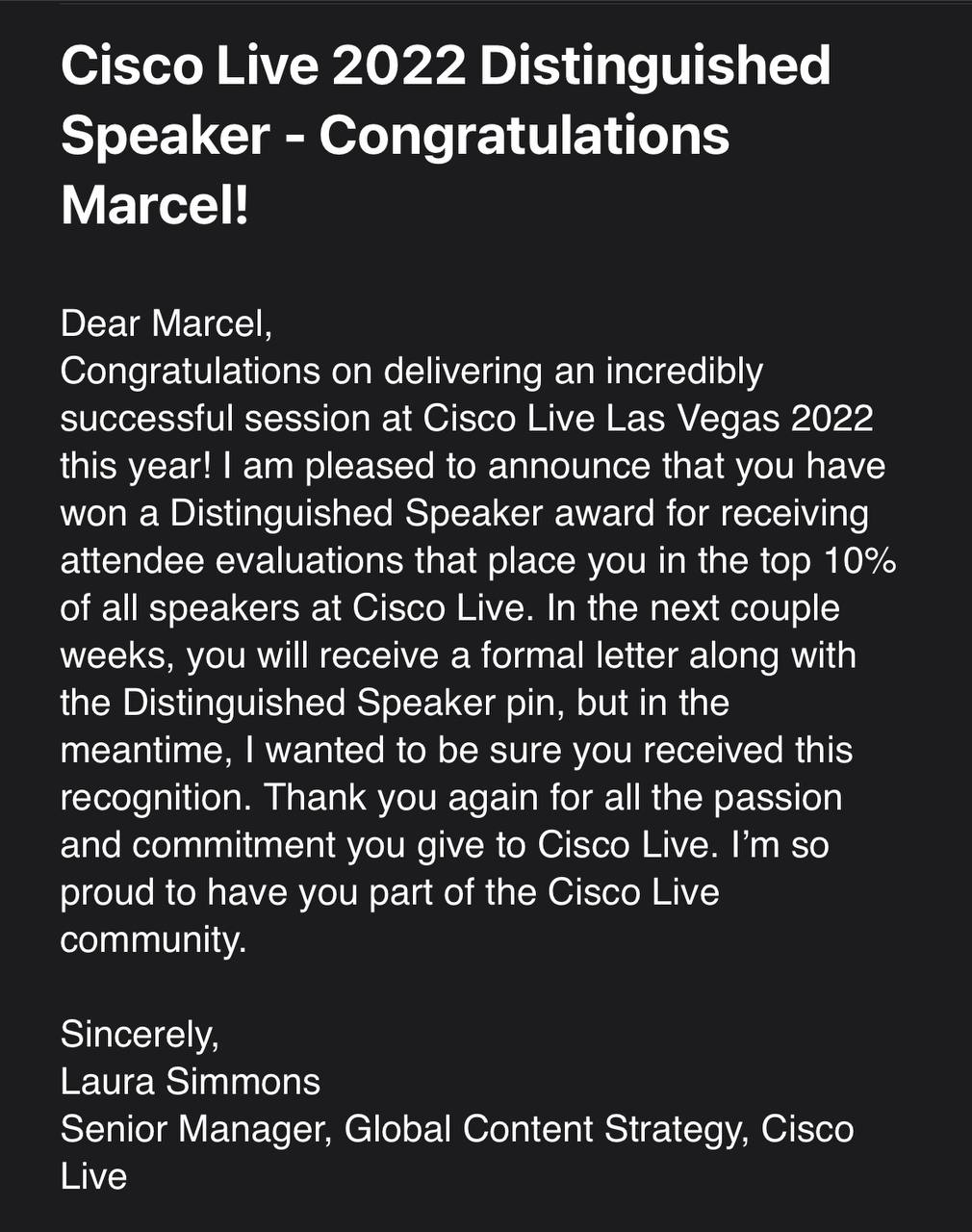 So thank you to everyone who attended my sessions, thanks to all the great people I got to meet, and thanks to all the people making this event possible. You rock! See you next year.
---
You get a speaker shirt for each of the four days that you are presenting on. Getting three shirts means that you have to present on three out of the four days. ↩